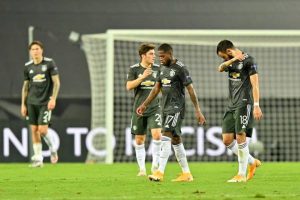 The kryptonite
It was a "hello darkness my old friend "moment yesternight for Manchester United as they got knocked out of the Europa League by Sevilla. In 2018, Sevilla knocked out Manchester United from the UEFA Champions League. A 78th minute winner from Wissam Ben Yedder did it for Sevilla. History repeated itself yesterday in the Europa League following a 2-1 victory  for the Spaniards .
Sevilla has proved a hard nut to crack for Manchester United. For instance, in a 2013 friendly match at Old Trafford, they lost 1-3 to the Spanish side. Sevilla have a 75% win rate vs Manchester United. 3 out of their 4 games against Manchester United. Los Palanganas are now headed to the finals of the Europa League to contest for their 6th title. The Spanish side is the most decorated club in the Europa League having won this trophy three times consecutively from 2014 to 2016, under Unai Emery.
Also Read:
The knockout
The game started off with an early penalty to United. Bruno Fernandes scored the penalty, his 8th goal in the competition. The Red devils have now been awarded 22 penalties in all competitions. The most that any team from Europe's top five leagues has had in a single campaign since Barcelona in 2015-16(24). However, this penalty was not enough for the night since Sevilla equalised at the 26th minute, a Suso goal assisted by Sergio Reguilon.
Luke De jong later scored at the 78th minute, assisted by Jesus Navas, to wrap it up for the day. This goal was clearly a mistake by Victor Lindelof. It's arguable that Lindelof should have marked Luke De Jong. After the full time whistle was blown, Lindelof seemed to be in an angry exchange of words with Bruno Fernandes over the goal.
Semi-final limit
For the first time in 31 years, Manchester United have gone three consecutive years without a trophy: trophyless. They are the first ever English top flight team to fall at the semi-final stage of three different competitions within the same campaign. Ole's boys got knocked out of the EFL Carabao League cup by Manchester City, got knocked out of the Emirates FA cup by Chelsea and now Sevilla all at the Semi-final stage.
The silver lining
Hoping this isn't a curse, Manchester United will bounce back .They had a good run in this campaign but nothing to show for it except for the 3rd position EPL and a qualification for the UEFA Champions League. The club will focus on signing new players and training in preparation for the next season, 12th September.
Photo Credit: Getty images