Joselu scored an impressive overhead kick in an international friendly against Manchester United.  The Spaniard was brought in in the second half to add some minutes to his game after settling in well at Real Madrid.  A few minutes later, he showed his intention to net a goal when he tested Andre Onana in his first outing as a Red Devil shot-stopper.  Despite his effort being saved at point blank range, Joselu was still keen to make a mark with Los Blancos already one nil up.  The 89th minute was his moment as he converted a Lucas Vazquez cross by netting a bicycle kick that left thousands of football enthusiasts awestruck.  Seemingly, all the tense clash needed was a Joselu overhead kick to put matters to rest.
Aging like Fine Wine
Joselu might be edging closer to his final playing years but that in no way reflects in his footballing ability.  Having failed to break into the Real Madrid squad early in his career, getting the opportunity to do so now surely exceeds his wildest expectations.  He was signed on loan until June 2024 after finishing as the third-best goal scorer in La Liga.  At 33, he was outscored by only Robert Lewandowski and Karim Benzema, two of Spain's top division's finest strikers.  As his club Espanyol was relegated, Carlo Ancelotti added him to the squad as a short-term striking option.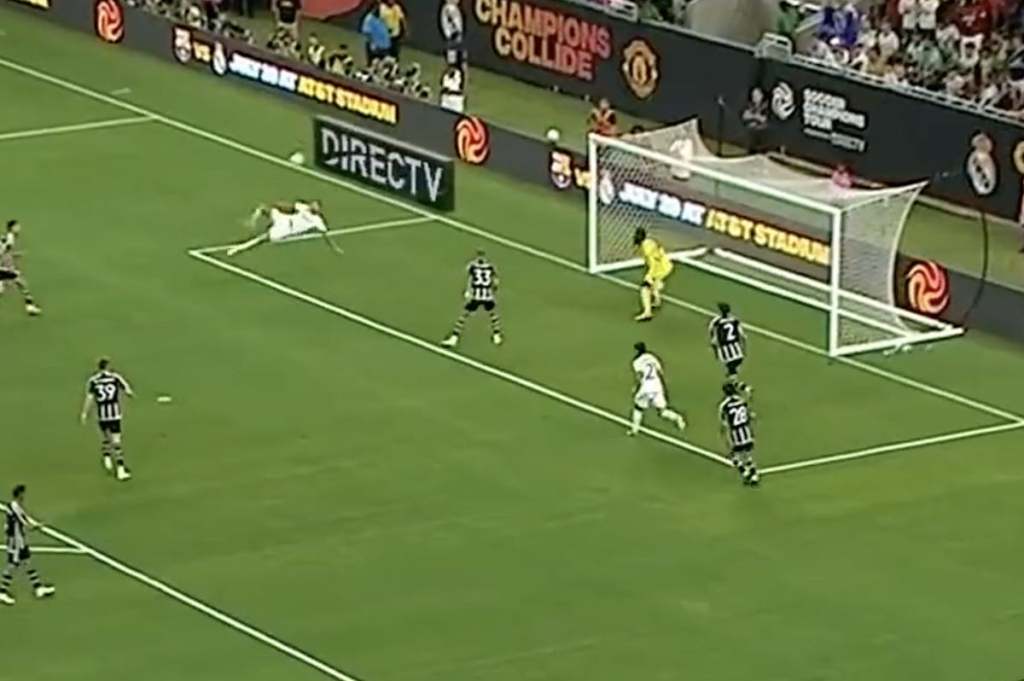 That bicycle kick in itself reflects the quality Joselu possesses.  His precise positioning made the goal even better before unleashing the fierce strike into the bottom right corner.  A helpless Onana could only watch as Joselu added blemish to his dream debut as Manchester United's number-one shot-stopper.  The goal stimulated the Madrid fans, who lit up the stadium with roars of excitement while the Red Devils fans held their heads in utter shock at the belter.
Ready to prove his worth at the Bernabeu
The Spaniard, who plays with his brother-in-law Dani Carvajal, is ready to show his worth at the Santiago Bernabeu.  It might have taken him years to show that he could play for arguably the biggest club in Spain and Europe.  However, he is settling firmly into the squad and did show how much of a goal threat he can be.  Manager Carlo Ancelotti celebrated his goal enthusiastically, showing how much he appreciated the striker's efforts.  With Karim Benzema gone, this could be Joselu's opportunity to make his case and prove his worth. Besides, how he fairs on in the coming season will determine whether the loan materializes into a permanent transfer.
Also read: