Valeriy Lobanovskyi might sound alien to the younger generation of football fans. Having left the world in 2002, the Ukrainian maestro has yet to receive credit for his legacy. The legacy he left behind is so big that 21 years later he is still a top 5 manager in Europe. During his tenure as a manager, he amassed at least 33 trophies. His unfortunate death robbed the world of a renown figure, a man who was born with the footballing DNA. Who is this man Lobanovskyi and what legacy did he leave behind? A deep dive into the history of perhaps the greatest Ukrainian manager ever to grace European football.
Early life as a footballer
Born in 1939 in Kyiv, Ukraine, Lobanovskyi realized that he was massively talented in football at 13 years of age. He was enrolled at the football school number 1 before graduating from the youth team. This is where his unique footballing abilities were nurtured before signing for Ukraine's biggest club Dynamo Kyiv. At the time, a young Lobanovskyi would never have predicted his future success at his club and country. However, he beat all odds to become one of the most exciting players at the club and a merited manager. Being mentioned with greats like Ferguson, Lucescu, and Guardiola is enough proof that Lobanovskyi comfortably sits top of the pile with other managerial geniuses.
A touch of magic
If you have ever played football at any level, you must understand how hard it is to score directly from a corner. To curl that ball from the corner spot to the net is one shot many players can only dream of. Junior Stanislas goal for AFC Bournemourth against Man United provides the most recent of example of when such a shot was scored. Stanislas curved a beautiful corner past David De Gea in the Premier League in this match.
However, for Lobanovskyi, this was a norm. He had perfected the art of scoring from corners with a special curl. He reportedly learned this art by training himself using the Magnus effect. Despite being one of the tallest players of his generation, he was also a perfect dribbler. Dribbling and flair were a challenge to such tall players at the time. He, however, beat the odds again by becoming one of the best dribbling wingers of his time. His footballing style was unique and interesting.
He retired from playing football at 29, having played for three Ukrainian clubs and scoring 71 goals. It was then that he decided to venture into the tough managerial world.
Achievements and trophies
Having grown the thick skin of managing football, Lobanovskyi started by managing Dnipro from 1969 to 1973. At the time, the club was playing in the Soviet League. Despite failing to win an accolade during his stint at the club, the manager set his foundation for the monumental success that followed.
Impressed by his achievements at Dnipro, his former club Dynamo Kyiv signed him as their manager in 1973. The club made another special acquisition of his former teammate Oleh Bazylevich to assist him in managing the club. This decision proved a success as they led Kyiv to win the Soviet League and Cup.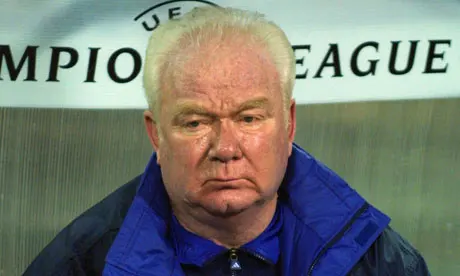 His specialty was that Lobanovskyi trained all his players to play in any position available. A striker would play in defense and vice versa when called upon. The club even developed a special scientific physical program for the players, that focused on pressing.
This style of play paid him well as he managed several impressive feats. In 1975, he led Dynamo Kyiv to their first European title. In that season, he did not just win one, but two coveted European accolades; The European Cup winners' cup and the European Super Cup. He had already written his name among European greats at the age of 36. Ostensibly, he was one man destined for greatness, winning the first European title for a Soviet club. He achieved this with a win percentage of 88.88%, a record that would stand for 45 years. The record was only broken recently in the 2019/20 season when Bayern Munich won 100% of their matches winning the Champions League.
You may also read:
The 1975 European super cup was one of his most special moments. In front of over 100,000 fans, his club saw off German giants Bayern Munich in a two-legged final. They ended up winning the European Super Cup. He was further awarded the World Coach of the Year award with Bazylevich later that year.
The two managers were credited with bringing forth Balon D'Or winner Oleg Blokhin at a time when the accolade was given on merit. The duo further had a chance to manage the USSR national team, winning an Olympic bronze medal.
Lobanovskyi was not your ordinary manager; his club and national teamwork were always thorough. He encompassed science and physicality in his training sessions, bringing about many superb talents. Dynamo Kyiv was once regarded as a club out of this planet due to the impressive style of football that Lobanovskyi utilized. His 33 trophies are a testimony that he was a special manager.
Lobanovskyi's defining moments
His defining moments included the 1986 special managerial job. At the time, he was too impressive to be allowed to manage only Dynamo Kyiv. He was further given the USSR team to co-manage with Kyiv. This was proof enough that he was a manager in high demand.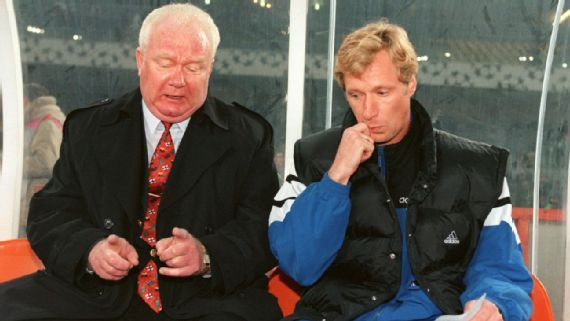 He won a bronze medal for Kuwait in the 1994 Asian Games, a feat deemed impossible then. This remains the only medal won by the nation to date. Lobanovskyi then produced at least 2 Balon d'Or winners during his club managerial stint. He also became the first manager to guide his side to the champions league semis despite not coming from Europe's top 5 leagues. The maestro had to do this by defeating giants Real Madrid in Kyiv.
He further developed players like Shevchenko, who helped Ukraine qualify for the world cup quarter-finals four years after his death. Lobanovskyi left a legacy like no other in Ukraine, and over 60,000 people attended his funeral in Kyiv.
Lobanovskyi in this age and era
Producing Balon D'Or winners during the 20th century was no mean feat. Players and managers had to go the extra mile to achieve this master stroke. Winning European trophies with Dynamo Kyiv also showed that his playing style was well ahead of time.
Twenty-one years after his death, he is still the 4th most successful European manager with 33 trophies he won. Lobanovskyi would be managing one of the top European sides if he had been alive. He would have also added quite an impressive number of silverware to his cabinet, with more Balon d'Or winners being credited to him.
His style of pressing play may have been one of the best around. His job in the tough 20th century would have been a walk in the park now. He was known to have players who could run tirelessly for the whole game and beyond. He would have bossed several European teams and won several accolades if he had been alive.
Death robbed us of undoubtedly the greatest Ukrainian manager. His name could fade from the minds of many, but his legacy will live forever. For sure, there will always be only one Lobanovskyi!