It's now an apparent reality that Manchester United's youth academy is progressively growing in prominence and influence. Last season it was Alejandro Garnacho who burst onto the scene and it seems another youngster has earned his stripes to demand similar recognition this season. Young talent Kobbie Mainoo, as was witnessed in the recent match against Arsenal, is an ideal mixture of physicality and tact. The 18-year-old talent is ostensibly catching the eye of Erik Ten Hag, and we might possibly see more of him in a United shirt this season.          
Mainoo is a no-go zone
Mainoo was earlier on scheduled to appear at a commercial event in Basking Ridge, New Jersey together with Raphael Varane, Diogo Dalot, and Aaron Wan-Bissaka. The club's final minute decision to exclude him from this function speaks volume to the value they bestow on him. It is clear Man United do not want to draw much attention to this prodigious young talent and with good reason. A few years back when United's youth structure was in a state of flux, Mainoo wasn't far off City's purview and could have easily signed for United's fierce neighbors. And even now that he is safely in Man United's hands, he is still amenable to a compelling offer from the right institution.
The club knows they have a gem in their pockets and are determined to preserve it at all costs. When asked about Mainoo in the wake of the match against Arsenal, Bruno Fernandes was quick to affirm this young midfielder's promise. "He's a great player," United's new captain said. "He's good on the ball, strong, he can defend and attack. Kobbie is still pretty young but we see a bright future for him."
Hugely impressive against a strong Arsenal side
United might seem subtle about Mainoo in the public eye, but don't get it wrong, they are raving in the background. Responding to a question raised regarding Mainoo at Pingry's Macrae Theatre, Ten Hag was nothing but positive about this bright talent. "He gets his chance because he deserves it," said ETH. "He showed a high level and now he has to show it in games. So preseason is perfect to test him." Mainoo's performance at MetLife stadium just confirms the encouraging perception that everyone at United has of him.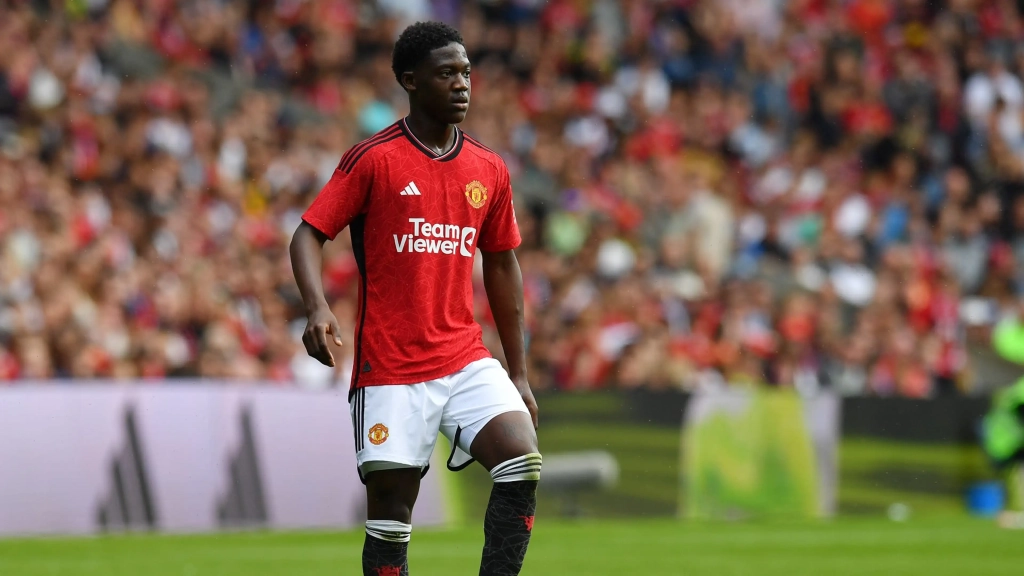 Young talent Kobbie Mainoo: Nurtured at Carrington
Only 18 years of age and with hardly any professional experience, he was supposed, together with Mount and Fernandes, to stop Arsenal's experienced midfield trio of Odegaard, Rice, and Havertz. Not only did he accomplish that task, he showed bright glimpses of creativity and vision that were pivotal in United's build-up play. United were very strong in midfield, and many plaudits go to this young player who was valiant enough to show up in such a dominant fashion. Not to forget that his attacking acuity is what led to Bruno Fernandes goal that opened the scoring.
You may also read:
It is an acceptable assertion that Mainoo possesses the defensive awareness to cover his backline, the ball intelligence to progress play, and the creative instincts to pick the right pass at the right moment. He also oozes a certain level of confidence that is uncharacteristic of players at this age. Most times he would drop in between Varane and Martinez to act as the progressive ball career. This is an attribute that is connotative of a mature player who is not only responsible, but experienced in that regard.
Does he get to feature in the Premier league?
Based on the performance levels that he is exhibiting during this preseason tour; it is not irrational to suggest that his premier league debut might come in the early stages of the season. Ten Hag preferred to play the youngster over experienced players such as Donny van de Beek and that shows how highly he rates him. As ETH already stated, this preseason is meant to be a test for him and apparently, he is already loving what he is seeing. Ten Hag isn't one to shy away from bold decisions and starting Mainoo in the league wouldn't be novelty to him. Whether or not he gets to feature in the league is something most fans would be interested to see. Nevertheless, United have an excitingly amazing young talent in their grasp who could turn out to be one of the best in the game with time.