FC Barcelona Women had to stage a comeback for them to collect a third piece of silverware this season. The Catalonians returned rejuvenated in the second half and scored three goals to beat Wolfsburg Women 3-2. Ewa Pajor had earlier scored a goal and assisted Alexandra Popp with another to put Wolfsburg women in front at halftime. Barcelona women proved brutal in the second half as 2 Guijjaro goals and a Rolfo winner granted them the trophy. This is the second time the Catalan women have won the UEFA Women's Champions League. "We made it hard for ourselves in the first half even though we created so many chances," Bronze stated while speaking to Dazn after the game. "We knew we had enough quality to come back into any game. I don't think we were ever worried about scoring three goals, which is a crazy feat to do, but that's the talent within this team."
The treble-winning mentality
From the beginning of the season, FC Barcelona women showed the zeal to win several trophies. They had resoundingly good performances this season while dominating several clubs with their quick plays. Their 4-3-3 formation worked in their favour, gifting them over a hundred goals in all competitions this season.
They almost finished the league unbeaten until Madrid women scratched them on their final league game. They beat Real Madrid and Real Sociedad women to win the Spanish super cup. The icing on the cake was the champions league, which granted them treble status.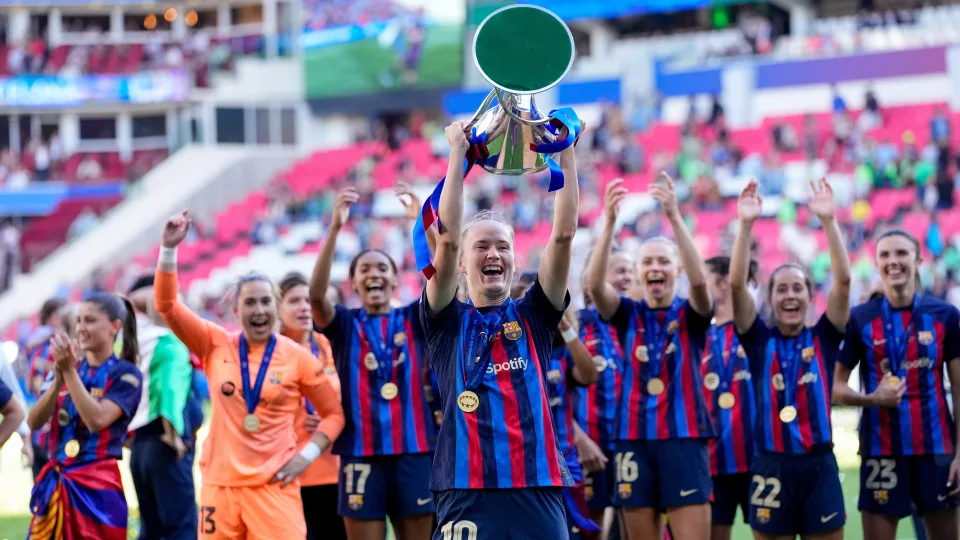 The important pieces of the puzzle
In the champions league, at least six ladies played a crucial role in ensuring goal-scoring was never a problem for Barcelona. Bonmati, Geyse, Oshoala, Caldentey, Guijarro and Rodolfo each contributed to a significant amount of goals.
Assisat Oshoala once again played her role well in the league, amassing the most goals for them. Hansen, Paralluelo and Pina also fought massively in giving the attack the sharpness it needed. These players gave their all, and even more, to ensure they write their names in history books.
31-year-old manager, Giraldez has slowly made a team that is now feared in Europe. Despite being good at squad rotating, the gaffer has always found a way of defeating opponents convincingly. The treble is a massive testimony to the kind of job this special guy has done for the club.
The hurdles
The biggest challenge the squad might have faced was the absence of key attacker Alexia Puttelas. She had suffered a long-term hamstring injury before the season began. This meant the Balon d'Or winner would miss a full football season. Despite this setback, the ladies rose to the occasion and ensured they once again were forced to reckon in Europe.
Also read: