Bayern Munich thrashed Barcelona 8-2 last evening in Lisbon to proceed to the Champions League semi-finals.
Both teams scored in the first seven minutes, but Bayern later took control of the game beating Barca 4-1 in the first half and scoring four more goals in the second half.
Bayern's Philipe Coutinho and Muller netted twice each as Gnabry, Perisic, Lewandowski and Kimmich also scored. Barca's two goals came from David Alaba's own goal in the first half and a goal from Luis Suarez.
Many predicted Bayern's victory considering their recent form, but scoring eight goals against a big club like Barcelona was not anticipated. The German champions mercilessly attacked Barcelona from the start to the end of the match.
The game between Man City and Lyon will determine who will face Bayern in the semi-finals. The two clubs are now fully aware of what they will be up against if any of them qualifies to the semi-finals.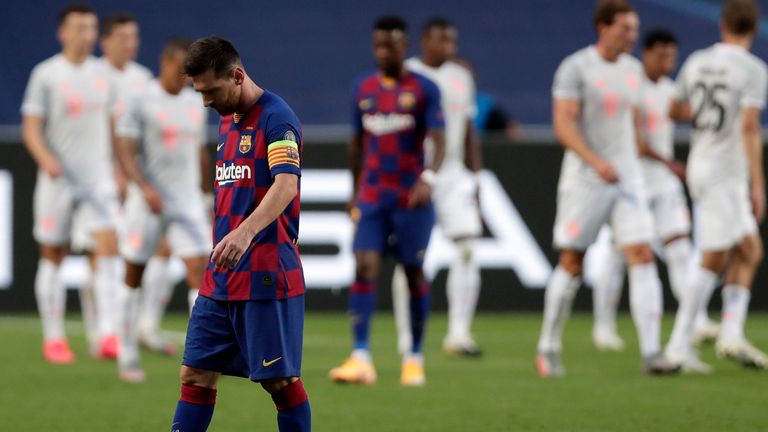 Messi not happy at Barcelona
One could say Messi was disappointed by his team-mates in last evening's match although he was not at his best.
Of recent, there have been rumours of the six-time Ballon d'Or winner leaving Barcelona, but the claims are unfounded. Messi hasn't won a trophy for Barca this season, and a new challenge for him would probably be for the best.
Setien not the best man for the job
Barcelona's defeat followed the sacking of Quique Setién after he failed to lead Barca into Champions League victory (according to Fabrizio Romano). Setien future at Barcelona was put to question when he did not win the Laliga title.
Setien's poor management forced Barcelona to cut short his contract that was to run till June 2022. As a Barca coach since his appointment in January, Barcelona was knocked out of the Copa del Rey, lost Laliga title and now knocked out of the Champions League.
His appointment as the club's manager back in January was a surprise to many as he had only managed Las Palmas and Real Betis in Spain's first division.
Featured Credit Image: Skysport