The Title Race
The English Premier League title race is shaping up with a host of fixtures set to be played this week. Manchester United top the English Premier League table. Manchester City comes second and Leicester City third. Liverpool has slumped to 4th position after the recent draw with Manchester United. The point difference between position one and four is 6 points currently. This week's results will, therefore play a big role in changing the table.
The other notable clubs are Tottenham Hotspurs, Chelsea and Arsenal. However, they sit in positions 5, 8 and 10, respectively. They form a part of the traditional big six clubs of England. With more efforts, they could also mount a title challenge.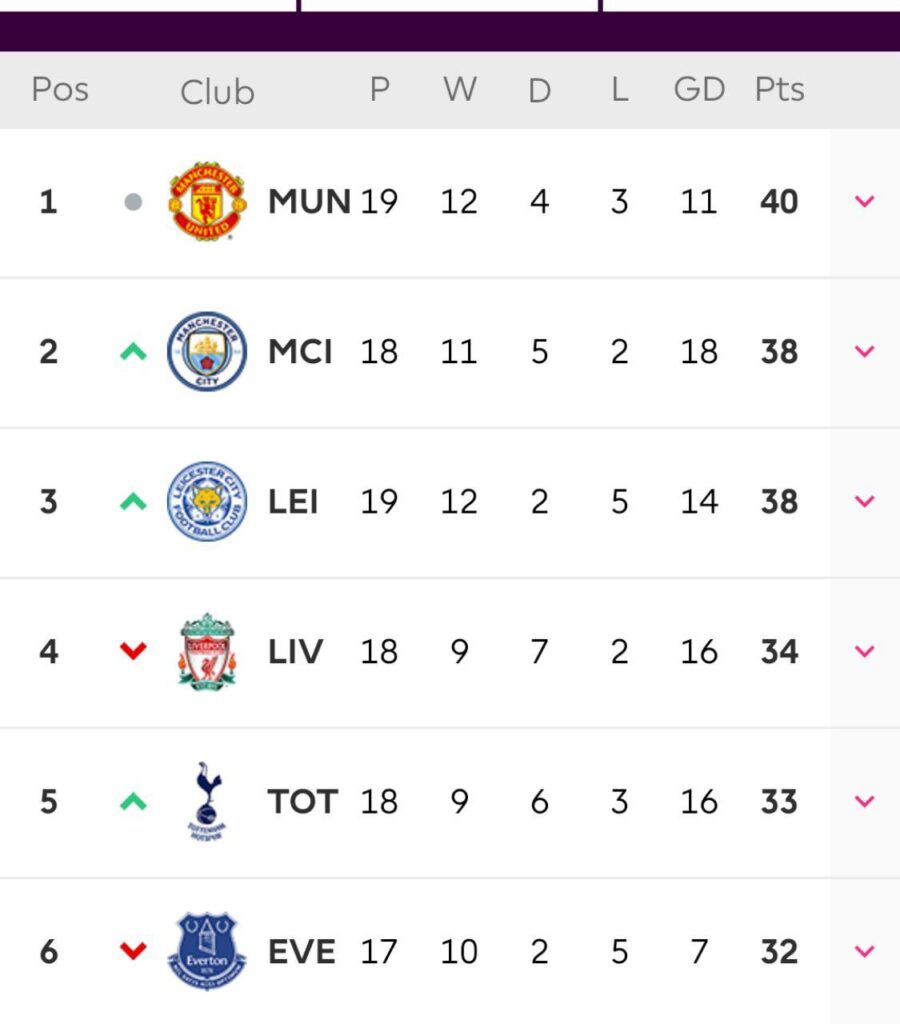 This Week's Fixtures
Arsenal opened the week with a crucial match against Newcastle United, where they won by three goals to nil. Emile Smithe Rowe has proofed to be a good midfield option for the Gunners. Aubameyang scored a brace, with Saka netting in the other goal. Emile Smithe Rowe and Saka have been crucial to Arsenal's return to form.
Leicester City played host to the Blues. Everyone looked forward to this fixture, owing to its importance on the Premier League top 6 table standings. Fortunately or unfortunately, Chelsea lost two goals to nil to the host and consequentially dropped to position eight. Relegation-threatened Westbrom lost two goals to one as they visited Moyes' Westham United. West Brom have recorded three losses in the last 5 EPL games, winning one and drawing the other
A race between two rivals, Manchester
Manchester was buzzing with chants from fans. On one end you could hear, "Glory Glory Man United" chants, on the other, you could overhear names like De' Bruyne, Pep and the likes. Both teams were playing on the same day. The results would determine the amount of Twitter activity we would experience. Well, both teams won, Manchester United won 2 – 1 vs Fulham. A goal from 'El-Matador' and a great strike from Labile Pogba did the trick. De Gea conceded a goal, thanks to an early Lookman goal.
Also Read
Manchester City, on the other hand, got two past a prolific goalkeeper-cum-Arsenal reject, Emiliano Martinez. Emiliano made seven saves in this match, seven saves! That is quite a performance. He conceded one open play goal and a late penalty by Gundogan. Bernado Silva was responsible for the open play goal. The results leave Manchester City second in the Premier League, with a game in hand.
Upcoming Fixtures
Liverpool is set to play Burnley tonight. Whatever, the results, they remain fourth. Aston Villa has several games in hand. They play Newcastle tomorrow; if they win they will be level with Chelsea and Southampton at 29 points, the goal difference will be the distinguishing factor.
The fixtures this week were exciting all along. How long will Manchester United remain on top?