A rattled Jose Mourinho went verbal at Europa League finals referee Anthony Taylor after the game. The AS Roma tactician was visibly pissed off with the English referee and couldn't shy from making his feelings known. Mourinho felt like some decisions that Taylor made throughout the game were biased and played a role in their defeat to Sevilla. These decisions led to Mourinho's perfect European record coming to an end. As a result of this misconduct, UEFA has charged Mourinho with using insulting language on an official.
The alleged biased decision
Anthony Taylor denied AS Roma a penalty that was a clear handball by a Sevilla player. Despite protests by the Roma team and the bench, Taylor would hear none. Jose Mourinho ended up getting booked during the game.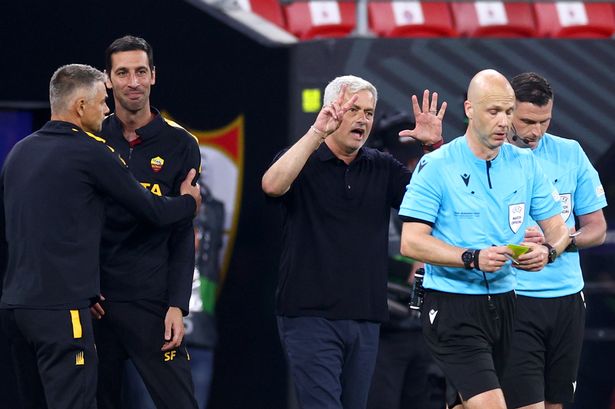 Several post-match reviews have confirmed that AS Roma was denied a clear penalty. This decision was crucial in denying Roma a piece of silverware for this season.
The Jose Mourinho meltdown after the game
Jose Mourinho waited for Anthony Taylor in the car pack after the game. The referee came to the parking lot and was met with several insults from a volatile Jose. The gaffer went hard on Anthony and questioned why he was still officiating matches despite his controversial decisions.
The AS Roma fans attacked Taylor and his family at the airport while leaving Budapest. The fans were displeased at his officiating skills and the penalty decision that cost them the trophy—however, a significant percentage of the football fraternity condemned this act.
The controversial Anthony Taylor
Taylor has been getting stuck with his decisions on the pitch before. Reece James was sent off during a Chelsea versus Liverpool match at Anfield for a similar mistake. Some fans then wondered why against Sevilla, the decision was reversed.
Taylor is loathed by some fanbases, like the Chelsea fanbase, who feel he always makes decisions meant to hurt them. A mistake or two has almost always been noticed whenever he officiates a Chelsea FC match. They, therefore, never look forward to experiencing officiating from him.
It is important to note, however, that he is one of the Premier League's most experienced officials. The refereeing role in itself is a very controversial one with most decisions being the backbone of contrasting opinions and feelings. And given the fact that it is human beings who perform this role, expecting outright infallibility is insensible. No one wrong decision could determine the ultimate outcome of a match and arguing for the same is just not right. Antony Taylor has had very many good moments as an official, which need not be overlooked for a handful of mistakes.
Mourinho versus the referees this season
This is not the first time Jose has had an episode with a referee. The christened Special One has had several tense moments with referees this season. He recently went to the touchline with a hidden microphone during a Serie A clash with AS Monza.
He allegedly did this to avoid being misquoted by the referees.
Also Read: