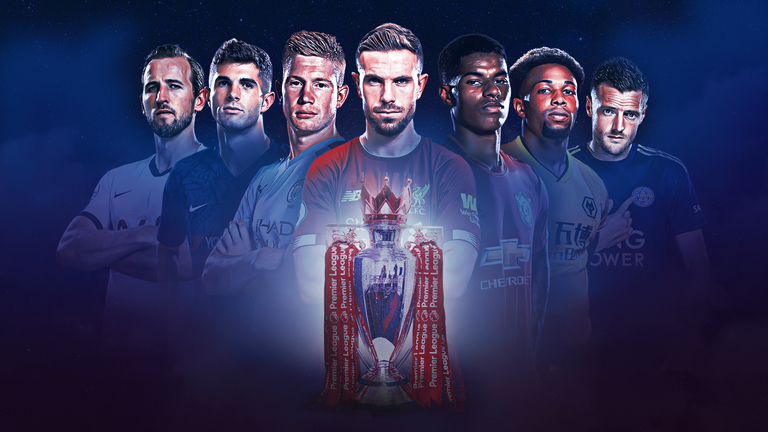 The EPL title race will officially kick off when Chris Kavanagh kicks off the premier league clash between Fulham and Arsenal, the 29th season of the premier league. In the minds of fans in England and across the globe, the million-dollar question is who, among the 20 clubs will lift the title come May. The 29 seasons have produced just 7 different winners. Therefore, it is not a misguided assumption to say, there are a few clubs who will most likely win it. Unless another club pulls off a Leicester, you are sure the winner will be among the top 6. So among them, who is in and who is out of the title race?
Liverpool
Liverpool is the team to beat at the moment. They won the title last season with, get this, 7 games to spare. They finished the 2018/2019 season just a point behind eventual winners Manchester City. Consistency is key and that is the dread which Liverpool possesses. Jurgen Klopp has put together a juggernaut that is very difficult to stop. Until their loss to Watford, they looked likely to finish the season unbeaten. Watching them play in the preseason, they still got that drive and mentality to be champions again. They have not been active in the transfer market but they were not last summer and still won the league. With speculation flying around on the impending arrival of Thiago from Bayern Munich, they can only get stronger. With the firepower of Mohammed Salah and Sadio Mane, goals will continue coming. Van Dijk and Alisson's bulwark will scatter the opposition
Manchester City
Anyone who watched City play last season knows that they are very strong contenders for the premier league title. Pep has one of the world's most valuable teams, so much that when Lionel Messi decided to leave Barca Manchester City were rumored to be interested. City have plenty of unfinished business. Following a third straight disappointing exit from the champions league, they will be out to make a statement. Liverpool showed them how you win a title, finishing a handsome 18 points clear making City's margin of 1 point the previous season appear like a stroke of luck. PFA player of the year Kevin De Bruyne is a man on top of the world. He is sure to be a menace to the opposition, supplying assists to lethal strikers like Sergio Kun and Gabriel Jesus. Club legend David Silva may have left but Phil Foden's emergence will calm the nerves of City fans. Nathan Ake and Ferran Torres top the list of arrivals this summer. The signing of Ake aimed at avoiding the misfortune that faces city whenever Aymeric Laporte is injured.
Manchester United
Although some may argue it is a 2 horse race to the EPL title, that may not be entirely true. If we consider United's post-lockdown form, they are genuine title contenders. They managed to bulldoze Chelsea and Leicester out of the way and clinch third spot last season. They got the job done and teams that get the job done always win something. Like City, they finished the season with bitter taste after Semifinal losses to Chelsea in the FA. Moreover they were knocked out by Sevilla in the Europa league semif final. With the Ole brand of football settling in, the belief is palpable. You will understand United's fan believe in this being the year they end a 7-year trophy wait. After the Bruno Fernandes acquisition in January, United came to life and many fans were hoping for further acquisitions. However, their summer has been relatively calm only signing Donny van de Beek. With emerging youngster Mason Greenwood combing in to supplement an already sharp attack, Dean Henderson's commitment between the post, only their defense may prove to be their kryptonite.
Chelsea
The blues gamble on club legend Frank Lampard. The weight of the transfer ban on their shoulders seemed to have paid off after they finished fourth. That was overachieving and they are not going to play dice again. They embarked on a transfer window that can be described as career mode on FIFA. Lampard has brought in Thiago Silva and Ben Chilwell in defense, Kai Havertz in midfield, Hakim Ziyech and Timo Werner in the attack, and goalkeeper Edouard Mendy is on his way. Chelsea struggled greatly in personnel last season. Kepa was rusty and out of the form that saw him impress the previous season. With the new signings coming in at defense, it looks likely that Chelsea's defensive woos may be a thing of the past. Supplemented by the attacking threat posed by Pulisic, Ziyech, Werner, Havertz, Giroud, Mount, and Tammy, Chelsea is a dream team. The big question is, can this set of talented players gel well? If the answer is yes, then Chelsea may join Liverpool and City as the main contenders. It is unimaginable how this team could finish the season without a trophy!
Also Read
Totenham
Let's face it, this is not the Tottenham side raised by Mauricio Pochettino that finished second a few seasons ago. After their cameo appearance in the Champions League final in 2019, wheels came flying off and with them Pochettino. In comes Jose Mourinho who is in the process of shifting that side to fit his philosophy. I do not know how much time it will take but at least they will be unlikely candidates for the league. The rebuilding may look subtle but with Mourinho in charge it could pay dividends. Like typical Mou, he went to strengthen his defense with well-experienced players in the Premier League. Former Saints Captain Hojberg, Joe Hart, and Arsenal fan, Matt Doherty headline the arrivals. Tottenham have a quality squad but they need to bridge a mentality gap before they can be considered contenders. How fast remains to be seen.
Arsenal
Last but not least Arsenal. 16 years in the cold. They salvaged a season to forget with an FA cup win. Typical Arsenal but it is the manner and circumstance that make that win a huge achievement. Former captain Mikel Arteta switched Manchester for London mid-season. With it a promotion from Guardiola's assistant. In the league, the damage was irreparable finishing 8th . However, their FA cup triumph ensured European football and may have convinced star man and captain Pierre Aubameyang to stay. The gunners are not short of talent with Gabriel Martinelli, Bukayo Saka, and Maitland Niles proving that Arsenal's progression should be of interest to everyone. For Arsenal, it may be too early to call because we are not sure what Arteta has in his bag of tricks. However, they will not be in the list of EPL title race favorites to win it this season.
The new Premier league season awaits. Halfway through we will have done away with some clubs from this list. The EPL title race is on!