If you are a football fan and have been paying attention to social media in the last year or so, you must have heard of Harry Maguire. It's impossible to avoid. The Manchester United defender might not be the most charismatic figure in the game right now, but he is the daily subject of online onslaught. No day goes by without the United captain being the focus of memes, jokes, or even downright insults.
But why is that? Many people, brands, and sites have jumped into the trend, constantly pulling jokes about Maguire that often punch below the belt. If the poor form was the cause, why are other players not getting a similar level of abuse? Today we will address a lot of other stuff regarding Harry Maguire and his current status in football.
Where was he born?
Jacob Harry Maguire was born in Sheffield on March 5th of, 1993. He developed as a player in the city's biggest club, Sheffield United. Interestingly, he was part of the Sheffield Under-21s side that played against Manchester United in the 2011 FA Youth Cup final in Old Trafford. This final featured the likes of Jesse Lingard and Paul Pogba on the opposing side.
Maguire even had to be taken off the pitch as he clashed with United midfielder Ravel Morrison during a header. This collision resulted in him getting a standing ovation from the supporters in the stadium when leaving the pitch and received a letter and a visit from then-United manager, Sir Alex Ferguson, wishing him a speedy recovery. According to Maguire, many years later, while he didn't grow up as a United supporter, those gestures made the club a lot more special.
Maguire at Sheffield United

He would go on to play with Sheffield's first team in the lower divisions of English football until he signed with Hull City in 2014 on a £2.5 million deal. After a short spell on loan with Wigan Athletic in 2015, Maguire would be a key part of Hull's promotion to the Premier League in the 2015/16 season. The England defender, went on to give very interesting displays in the sole season he spent with Hull in the top tier division of English football.

Sadly, Hull got relegated back to the Championship in the 2016/17 season. Still, the defender's
performances allowed him to sign for Leicester City in a £12 million deal with the possibility of rising to £17 million when considering the add-ons. During this period, he started to make waves in the Premier League with the Foxes, and his marvelous displays with England in the 2018 World Cup also helped greatly with that.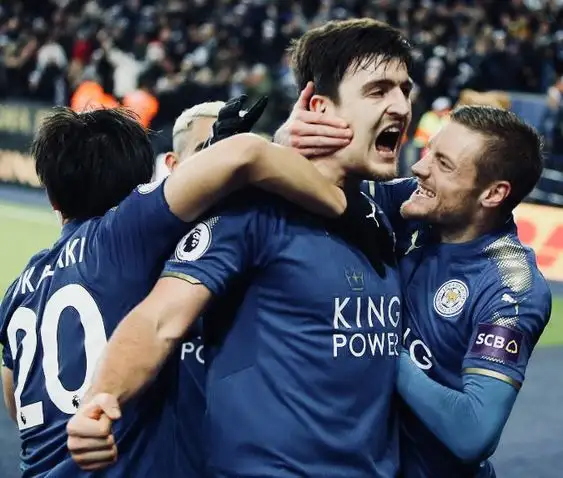 As an interesting fact, then-United manager Jose Mourinho has admitted that he wanted to sign Maguire after his World Cup exploits in the summer of 2018. However, the club's hierarchy was not in favor of spending the money that Leicester City was demanding. This would prove to be quite ironic when the following United manager, Ole Gunnar Solskjær, signed Maguire in the summer of 2019 at a record fee of £80 million, making him the most expensive defender in the history of the game. Moreover, they agreed on weekly wages amounting to £189,904 (although it's worth pointing out that Man United's wages are not public knowledge, so this is based on leaks and reports rather than 100% factual information).

This was when the problems started for Maguire.
The captaincy controversy
There was already a lot of controversy surrounding Maguire when he signed for Man United in 2019. The 80 million pounds fee was deemed way too excessive for a player that didn't have a major record of success (as of this writing, he hasn't won any trophies with United). While his performances with Hull, Leicester, and England had been quite interesting, they didn't warrant such a fee. Some people compared it to Virgil van Dijk's move from Southampton to Liverpool, but that only added unnecessary comparisons to Maguire's United career.
United Captain
In that regard, and with the benefit of hindsight, Ole Gunnar Solskjær's decision to make him United captain a few months after signing for the club was probably not the best. Looking back, there was a bit of logic: the United side of that period was fairly young, lacking a lot of experience, and veterans such as Nemanja Matic, Juan Mata or Ashley Young were already squad players. David De Gea, who has been suggested as club captain by supporters for years due to his longevity at the club, has never been too keen in having the armband and doesn't seem to be a leader or at least a major one.
Maguire was in his peak years, a major piece in the England squad that made it to the World Cup semifinals in Russia. Moreover, he had worn the armband for his national side from time to time, so there was a bit of logic in Solskjær's decision at the time. Despite all this, it massively backfired: making Maguire captain only drew more unnecessary spotlight towards him, with fans, pundits, and many more pointing out that he wasn't United captain material whenever things didn't go well, or Harry had a poor performance.
Varane and Maguire at the back
This was only exacerbated by the arrival of players such as Bruno Fernandes, Cristiano Ronaldo, and even Raphael Varane. The aforementioned players possessed more expressive and fiery behaviors and personal records which generated a lot of debates among supporters about them having the armband over Maguire. This is something that goes on even to this very day. It can be argued that the armband situation, even more so than the transfer fee, has had a bigger impact on the online trolling that has been going on with the former Leicester defender in recent years.
Current status. Is he injured? Why has he been on the bench?
Under the guidance of current manager Erik Ten Hag, Harry Maguire is
performing as a squad player in this United side after being a secure starter since his signing in 2019. Despite still retaining the United armband, the solid performances of the Lisandro Martinez/Raphael Varane partnership have moved Maguire to the sidelines. He contributes from time to time as a rotation option.
There have been a lot of controversies with the supporters as a large portion of the United
fan base wants him sold. However, both Ten Hag and Maguire have been quite diplomatic about it, and with no major rumors about a sale, at least as of this writing. The former Sheffield man has been quite professional. He has never voiced any discomfort at being benched this season, which suggests that his relationship with the Dutch manager is cordial, at least.
Is Maguire now a bench player?
Will he leave United? It's hard to say right now, but if the player wants a starting role, there is a good chance he may have to leave. There is also the element of online trolling and constant abuse that may take a toll on him, leading him to a change of scenery to have a bit of peace of mind and a fresh start. But right now, it's hard to start.
However, despite a rocky beginning of the season at his club, Maguire seems poised to be a starter in England's squad in the World Cup in Qatar this year. Manager Gareth Southgate is a huge fan of the defender, and the player has rewarded his faith in him with tremendous
performances. Notably, in the 2018 World Cup and the 2021 Euros. It's safe to say that Maguire has earned to play this tournament with England, at least based on his performances with his national team.
Online abuse and insane escalation
Due to all the aforementioned reasons (his transfer fee, the armband, and the comparisons of success and character with other United players), the online trolling and abuse have gotten out of hand with Harry Maguire. While there is a lot of room to criticize his performances, which last season were less than stellar, many lines have been crossed to troll the player.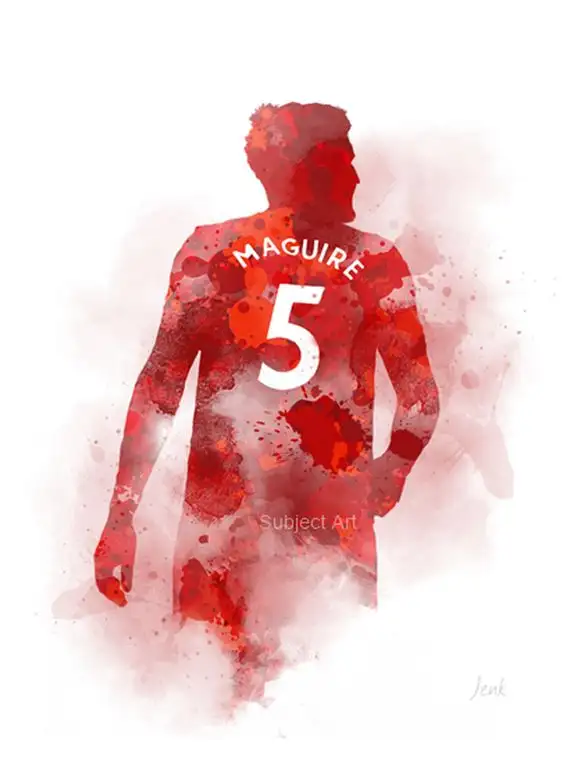 For example, Maguire has been the subject of many out-of-context images to be blamed for the negative results United was getting. Last season they drew 1-1 against Southampton at Old Trafford. Still, the image everywhere on the internet was Harry Maguire getting turned due to a dribble made by Soton striker Armando Broja… which resulted in absolutely nothing afterward, and Maguire eventually retrieved the ball. But he was the one that got the blame for the result.
While Maguire has always been the subject of criticism since his arrival, his two first seasons with United were quite decent, and the out-of-context images were not so prominent. Much like the images, the captaincy issue wasn't either, but it escalated as time passed. It was during the 2021/22 season, due to the awful season that United as a whole had and the extra media attention that the signing of Cristiano Ronaldo brought to the club (not blaming the Portuguese for this, but his presence alone generates a lot more media attention), that Maguire went through as something that could be akin to character assassination.
Harry Maguire bomb threat
A great example of how things have escalated drastically was when he got a bomb threat in his own home near the end of last season, and several supports, YouTubers, etc., were trying to minimize the situation when this is a human being whose physical integrity and his family's could have been hurt due to football. It's illogical how things have reached this point with Maguire, whose only sin seems to be playing poorly, wearing an armband, and costing a lot of money–as if that is enough to warrant being mocked, booed and insulted every single day and every single match.
This is a man that posts an image doing charity work and gets tons of insults from United "supporters" simply because they don't rate him as a player. It's one of the most intense cases of online sports abuse in modern history and one that has gotten way out of hand.
Also Read
The question: Is he a good player?
The most interesting part about this Harry Maguire situation is how it keeps people from doing actual, unbiased football analyses about his performances and qualities as a player. You Tubers, social media influencers, and out-of-context images would make you think that this is the worst defender that has ever graced top-level football. This couldn't be further from the truth.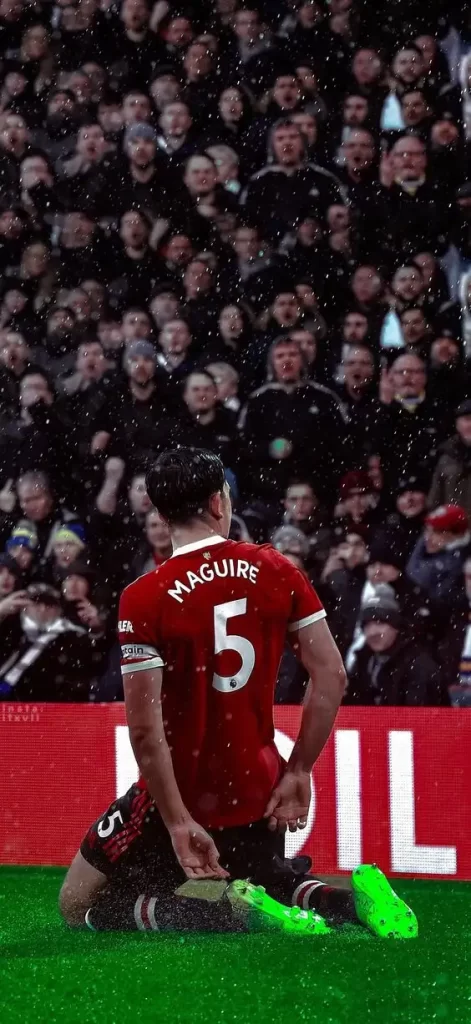 The then Manchester United captain celebrating his goal earlier on in the Premier League. Photo Credits: Getty Images
Maguire does have his flaws: he takes a bit too long to pass the ball. Notably, sometimes he mistimes his role as the aggressor in the defense. When the defensive structure loses balance, he is one of the first to look poorly because he needs to rely on his teammates. It would be fairly dishonest to claim he is a perfect player or that some criticism he is getting isn't warranted.
Having said all that, you don't make it to Manchester United and reach a World Cup semifinal and a Euros final as one of the tournament's best players without being good at football. At his best, Harry Maguire is a top-class ball-playing defender with a strong physical edge to his game and a very strong heading, which makes him a complete option for a lot of teams.
Some coaches wanted to sign Maguire.
Managers such as Pep Guardiola, Jose Mourinho, and Mauricio Pochettino have admitted that they wanted to sign him. It's very difficult to believe that three highly regarded and successful managers, with three very different styles and understandings of the game, could be wrong about rating Maguire. And when looking at his United career with unbiased glasses, his first two seasons were solid. The end of the second one was so good that the vast majority of supporters were heartbroken that he lost the 2021 Europa League final against Villarreal.
In a way, Harry Maguire is a bit of a cautionary tale about what happens when online abuse goes too far and how it can cloud people's opinion from a player in a very unwarranted manner.